BOOKS, MOVIES, & MEDIA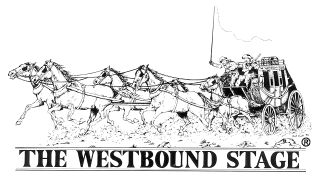 Many Books, Movies, TV Episodes, & Magazines have heralded the early days of Wells Fargo.

THESE ENTERTAINMENT MEDIA HAVE BECOME THE "BIBLES" for Fans & Collectors of Western Relics & Folklore.
A few are included here. Each one of them is a "Treasure Box" of information:

COMPANY PROPERTY , for historians and collectors,
LOOKING BACK IN TIME, a NEW Kindle e-Book,
Our RECOMMENDED READING , and
MOVIES & TV PROGRAMS!

Order your copies today!
TO ORDER "Company Property," Email Westbound1849@gmail.com or Call: 951-404-3069
Description:

Price

Company Property
Hard Cover (Dust Jacket has Minor Flaws)

$100.00

Wells, Fargo & Company's Express
ORDER Kindle e-Book

$9.99

CA residents: Add 8.75% sales tax.

Call: 951-404-3069
Email: Westbound1849@gmail.com
© Copyright 2018 The Westbound Stage® - All rights reserved.