Messenger Twelve

"The death of Mr. Vestoni and the sale of little Caralina (was) very moving and infinitely sad. I was pleased to discover the darkness and misery replaced by kind and honorable deeds."


Alessandro Di Franco, First Counselor, Embassy of Italy, Washington, D. C.

"Fantastic! ... eloquently portrays the circumstances (of the Mormons)."
Keith Atkinson, Public Affairs Director, Church of Jesus Christ of Latter-Day Saints
Los Angeles, California,

"The medical procedures used in the book are very credible for that period."
Dr. Charles J. Bellitti, Newport Orthopedics
Newport Beach, California

"Damn fine read! Stayed up all night. Knew his guns. When is he writing a sequel?"
"Codger" Bob, Renowned Western Aficionado


"March 13, 1855 ...
Two Chinamen tried me for the box. They are dead.
Twelve"

Run Report, Wells, Fargo & Co.


Young Reef Atherton passes his "maiden voyage" test of manhood as a seaman aboard the Polar Star. He learns to traffic in slaves and ignore the suffering, as he becomes a wealthy captain and the owner of four ships.

In Boston, Reef meets and pursues Robin Larimore, a "God-kneeler," who goads him to resume the slave trade to enhance his wealth and position. He refuses and is forced into insolvency when his ships fail to return.

Reef follows the trail of his lost ships to San Francisco, where the frenzy and madness of the gold rush entrap him. He is confronted by another slaver, Thai-Saing, who has forced Caralina, a ten-year old, to become a sing-song girl in his brothel.

Reef is robbed and shot by Thai-Saing's assassins, and saved by a Mormon doctor. In his delirium, Reef babbles about Caralina, after which the doctor becomes obsessed with owning the pretty and talented harlot.

Recovering from his wounds, Reef signs on as Messenger Twelve for Wells, Fargo & Co., a position which gives him the authority to kill to protect the treasures entrusted to him.

He meets Anita, a flirtatious street vendor, but he is torn by his devotion to the jealous Robin, who arrives in San Francisco to regain his affection. To sever Anita's bond with Reef, Robin arranges a legal maneuver to force Anita into Thai-Saing's brothel.

The Mormon doctor negotiates with Thai-Saing to buy Caralina. Thai-Saing sells her for $2500 in gold, then pays a judge to issue a Fugitive Slave Warrant for her arrest and return. Thai-Saing uses Caralina and Anita as bait in his trap to exact his revenge on Messenger Twelve.

TO ORDER: Email: gojimbartz@hotmail.com or Call: 760-728-3805

Description:

Price

Company Property
Hard Cover (Dust Jacket Has Minor Flaws)

$100.00

Messenger Twelve
Hard Cover

OUT OF PRINT

CA residents: Add 8.00% sales tax.
Home | Antiques For Sale | Wells Fargo Books | Services | Museum | Poet's Corner | Other Resources |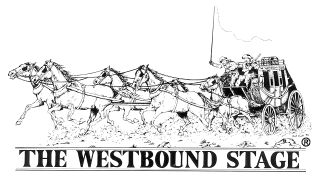 ®
Email: gojimbartz@hotmail.com
Phone: (760) 574-0599
© Copyright 2012 The Westbound Stage® - All rights reserved.