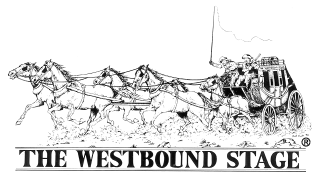 Bob Chandler
"January 8, 1999
. . . Here I am sitting wearing my Emperor Norton T-shirt, so
decided it was time to write . . .
Got many poor souls out there knowing nothing of WF&Co. and
always suggest they buy THE BOOK!
Regards,
Robert J. Chandler"


Bob Chandler reviewed and edited

"Company Property of Wells, Fargo & Co.'s Express, 1852 - 1918"

from an historical perspective.
His prolific suggestions and corrections resulted
in the replacement of much folklore and fiction with many facts,
and an increased emphasis on many subjects that otherwise would have been ignored.


The Westbound Stage
and
Wells Fargo historians & enthusiasts everywhere
appreciate
Bob's placement of dozens of pieces of that literary jigsaw puzzle.


Additional information about Bob Chandler is available Here!

* * * * *


Call: 951-404-3069
Email: Westbound1849@gmail.com
© Copyright 2022 The Westbound Stage® - All rights reserved.